Listen to Each Team Member, One-on-One
Hello Business Detoxers! During week 4 of #businessdetox, we discussed the 3 Tips to Enhance the Experience of Attaining Goals. During week 5 of #businessdetox, our focus is on the "muscles" of a business. In order for muscles to work properly, we have to train and strengthen them, as well as make sure we are not stressing them with too much weight… The same goes for our employees.
In our #BusinessDetox analogy, we see our employees as our muscles. Employees add value to our businesses if we invest the time to train and grow them. Employees give back to the business after they are motivated to achieve great heights. Motivating employees goes beyond offering monetary bonuses. MONEY IS NOT THE ONLY MOTIVATOR! Employees are highly motivated when they are EMPOWERED.
In Principles of Management and Organizational Behavior, v. 1.0.1 by Mason Carpenter, Talya Bauer, and Berrin Erdogan, the authors stress that "instead of dictating roles, companies should create an environment where employees thrive, feel motivated, and have discretion to make decisions about the content and context of their jobs."
When a decision needs to be made, it is usually best to have the person who is working in that sector to make that decision. Establishing a business structure with fewer levels increases efficiency. Autonomy is a large motivator and one of the grandest empowerment tools.
The graphic below depicts the different types of empowerment that should be implemented in the workplace. Structural empowerment is put into place by upper management so that it positively affects the work of the employees; thus, they are able to feel the effects of structural empowerment.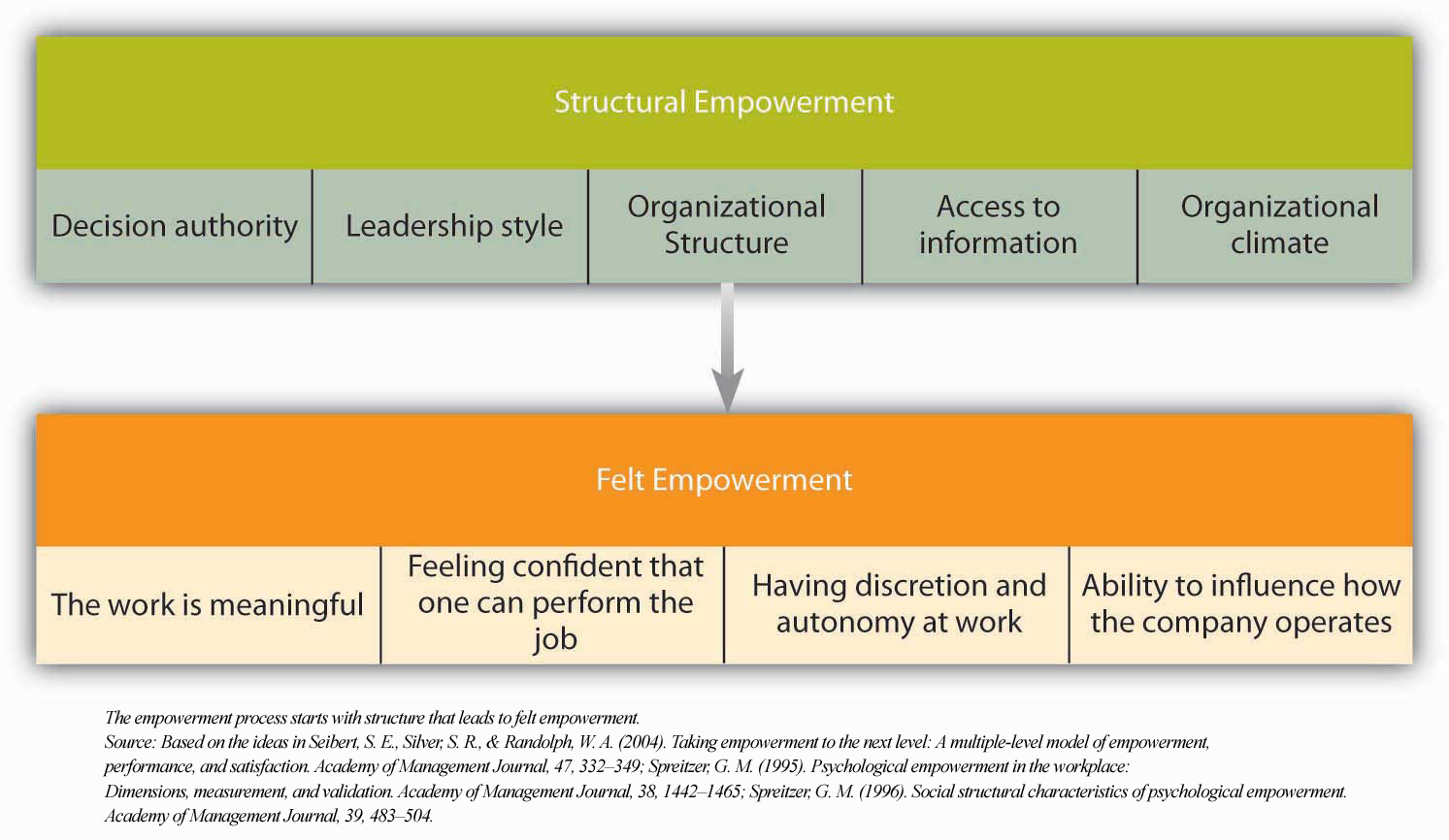 One of the best ways to improve interaction and build trust between you and your employees is to hold one-on-one meetings and touch base with them. Although one-on-one meetings can be time-consuming, they are the most effective way of beginning the empowerment process. If your company is big, implement a random drawing of one or two employees you can focus on every week.
Here are some topics that we suggest you cover during these meetings:
What do you expect from them and what do they expect from you or the company?
What do they love about their job?
What do they wish they could improve?
What vision do they have for the company (or their sector) within the next 2 to 5 years?
Are they in the sector they ultimately want to be in? (If they don't feel like they are, you may have to make a strategic change and place them in the department they can thrive most in.)
Do they feel like they have as much influence as they would like to have? If not, why?
What do they wish they could do for the company that their position doesn't allow them to do?
Do they feel like they are over-stressed at work? If so, why?
What ideas do they have for the company?
This is really a moment to hear out each employee and take detailed notes. These notes can go into each employee's file as you build upon these ideas with every "touch base" meeting thereafter. Most importantly, do not let the discussions that begin in these meetings end there. You are planting a seed for growth after these meetings; try to make changes to enhance each employee's work experience. Listen to them. Try to implement the changes they are asking for. Make sure their work is challenging and not too stressful. Assign assistants to those who are over-stressed.
Ensure your employees that you are available to listen them and, importantly, try to improve their work experience; this ultimately improves the outcome of all projects. If you take care of your employees, they will take care of your business. This open and honest environment is the first step to building a trusting and understanding relationship between employer and employee. They may have ideas that will surprise you; giving them the opportunity to pitch these ideas will already make them feel more empowered. Many employees hold back good ideas simply because they don't think anyone is willing to listen. Establishing this environment paves the way for them to approach you when other good ideas pop up in the future. They are more likely to openly communicate with you in the future due to these precedents you have set.
When employees do come up with good ideas, let them lead the project or at least be part of the decision-making team. Getting credit, as we discussed last week, is a big motivator. Make sure all employees are given proper recognition. This also serves as a sign to other employees that there are opportunities to grow within your organization. Over time, as you increase the chances for people to pitch and lead their ideas to success, slowly but surely you will see your "shining stars" emerge. These are the employees who will go above and beyond, the ones who want to take on the challenges of leading a group, planning and executing a project, noticing things that can be improved and coming up with good solutions. These are the people you want to provide room to climb up the ladder.
Empowering employees can sometimes be scary because mistakes are inevitable, but it is critical to not swoop in and save the day right away. Unless your company is facing great risk, allow your employees to make mistakes, even if you see them coming. This provides you with the chance for another meeting to touch base and analyze with the employee(s) why things happened the way they did. These are the times the "Plus/Delta" sessions we discussed during week 4 are most helpful.
Setting these practices into action shows employees that it is ok to pitch ideas, lead groups, make mistakes, grow, and improve the company regardless of what their position or title is.
Remember! Leaders do not come from positions or titles; leaders arise from being given the opportunities to have an influence in their jobs.
TAKE AWAY POINTS:
Money is not the only motivator
Allow autonomy
Set-up meetings so you can touch base with your employees on a one-on-one basis
Establish an environment that is empowerment friendly
Connect with @solutionsSBC! Use #BusinessDetox and tell us how you motivate your employees OR what you wish to do for the company you work for!
Last modified onSaturday, 16 May 2015 06:17