Are You Practicing the 3 Cs?
Our focus during the first five weeks of our 7-week business detox (#businessdetox) campaign (Week 1 - Win Back Your Workspace with 6 Easy Tips, Week 2 – What's Your Business' VMVGI?, Week 3 - Finding Your Business' Function, Week 4 - 3 Tips to Enhance the Experience of Attaining Goals and Week 5 - Listen to Each Team Member, One-on-One) has been internal. It's Week 6 and we now expand our scope externally to include clients because they are just as much a part of how healthy your business is as its internal functions.
Communication is typically the first step that gets stumbled upon when something goes wrong. In retrospect, it is usually evident that there was either some sort of miscommunication, or rather… no communication. Strengthening the communication within your company is one of the best ways to avoid foul-ups. This extends to your clients as well; good communication with clientele is essential for customer satisfaction = good customer service!
These three C's intertwine infinitely during any given workday; we're going to teach you THE WAYS to improve your communication skills and boost your customer service!
Sometimes, customers can be difficult… If you're selling a product, try to stick it through and deal with them…if you're selling a service, be careful with whom you conduct business. Sometimes, you may be better off using "We reserve the right to refuse service to anyone."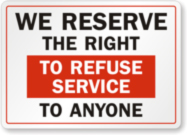 We'll revisit difficult clients a bit later; for now, let's focus on communication.
Communication
First, let's start with the basics: there has to be a "talker" and a "listener." Of course, life is not always that black and white. Usually in the workplace, both parties talk and listen; actually both parties talk, but do both parties actually listen?
Listening is not the same as hearing what someone has to say. Listening means there is a level of analysis and understanding going on behind the walls of our heads; that our brains are processing the information that is being distributed to our eyes and ears. Moreover, the listener, if they're actually listening, should have questions… it is very rare to understand everything all at once. And IF you just so happen to be that extremely brilliant one-in-a-million person, "repeat the request" to make sure you really did get it all right.
Repeat the Request
This is a tactic that ensures the information you gathered is what the person was trying to convey. The same message is understood between both parties. Now obviously this tactic isn't used for a task like "make 10 copies and put them on my desk." This tactic is aimed toward those tricky, long tasks that take longer than a few moments to complete.
It's not very often that subordinates give their boss' tasks to complete; however, it does happen (especially if you tuned in to our Week 5 business detox article about empowering your employees and letting them lead). Here are 3 methods on implementing the "repeat the request" tactic:
Be Precise!

If there are small, but very important details, e.g. a time limit, make sure to emphasize them. These are usually the nitty gritty details that are often miscommunicated and that mess up everything.

Write it down!

Usually writing out long, difficult, or multi-stepped tasks are a very secure way of delegating work. This helps people focus on what they are responsible for and offers a tangible piece of paper they can refer back to/jot down notes and questions on as they pop up. Furthermore, this piece of paper can act like insurance that nothing will be forgotten. Because it is tangible, it makes people more accountable. Verbally communicated assignments are easier to slip the mind than those written down. To take an extra step of careful communication, email the document to internal team members as well. This serves as yet another piece of insurance since it is dated and timed. Best of all, it allows each person to have access to the document from anywhere, just in case they forget the piece of paper somewhere (c'mon we're all human).
Ask questions (both/all parties). If you are assigning the task, ask the person if they have questions; assure them that there is no such thing as a dumb question and they are better off asking now than fouling up later. If they don't ask any questions, ask them to repeat the task they were just assigned. If this is someone who has a history of being forgetful or who is not as careful as you wish they were, ask them if there is anything more you can do to make sure they understand and can complete the task. If you are receiving the task, ask any questions and once you feel you understand fully, "repeat the request" so you can ensure that you've got all details down to a "T." Take notes while being assigned a task so a small, yet important, detail is not overlooked. Remember: it is better to be over prepared than unemployed. Yes unemployed…because if you aren't able to accomplish tasks over and over again, you may be filing for unemployment sooner than you think. When listening, put everything else aside, physically and mentally. You may be thinking about how hungry you are at the moment and miss a very important detail.
There was an episode of Brain Games, a show on National Geographic, that stated our brains don't actually multitask, but instead it switches between (or among) tasks rather quickly. That's why the best way to be efficient and ensure we are taking in all of the information presented to us is to focus on one thing at a time. Remember, this next time you're trying to focus your brain in many directions at the same time.
Clients
Clients are like the cells of your body. Your lifeline. Without clients you have no business. However, sometimes clients can be like bad cells, spreading infection or disease. This is when you have to be cautious. When taking on difficult clients, they may not directly cause harm to your business, but when you place too much energy on their needs, they indirectly cause harm by draining you/your team's energy and steal time away from other clients. At times, they can directly impact your business negatively by giving bad reviews and refraining from referring new business to you.
Customer Service
Customer service is like the mouth; you have to make sure it's always in good condition. What comes out can never be reversed so you need to be extremely careful with how you treat your clients so you don't reap negative outcomes. It is extremely important, especially now that technology makes it so easy to find businesses as well as the reviews and ratings it has. All of this information is readily available; you want to make sure your business is doing what it can to secure a positive top spot on these search lists. Customer service turns gets back to communication. Communication is just as critical, if not more, OUTSIDE of the company. When talking to clients, employees have to be clear, honest, precise, and above all, understanding. You choose what image you would like to establish for your company's customer service and stick with it. If you have strict policies, make sure you have good explanations as to why because people will challenge you. If you are lenient, make sure all possible options are wellstated so the customer can choose what fits best for them.
Takeaway Points
Communication
Listen uninterruptedly
Repeat the request
Be precise
Write it down
Ask questions
Listen uninterruptedly, yes, again
Clients
Don't be afraid to pick and choose your clients
Don't forget their experience can reach a lot of people
Customer Service
Establish a system
Be understanding
Let the customer talk; you listen, uninterruptedly
Share with us, below, on how you are, or plan on, putting the 3 C's - communication, clients & customer service in action to operate more efficiently as part of your #businessdetox or share your thoughts via SBC's Facebook/Twitter pages by tagging with #3Cs #BusinessDetox - @solutionsSBC!
Last modified onSaturday, 16 May 2015 06:12